A Detailed Services List
We Supply and Fit all makes of tyres, from economy to premium quality.
We stock new tyres, remoulded tyres and partworn tyres. If you need a tyre we have a wide range for you to select from.
We stock tyres for all makes and models of Cars, Vans, Jeep, Light Commercials, Wheel Barrows, Hand Trolleys.
We Provide a Puncture Repair Service.
If you have winter tyres or your own tyres that need fitting to a set of wheels, we provide a Tyre Fitting Service.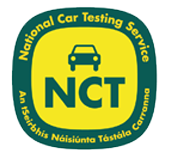 Have your vehicle tested prior to it's NCT assessment date.
This Involves:
4 wheel Laser Alignment
Headlight Alignment
Tyre Inspection
Bulb Check
Battery Test
These are all crucial areas of the modern test in the NCT Centre that cannot be ignored.

Improves performance and cuts tire wear. It prevents any sorts of vibrations through the steering wheel that may cause annoyance when driving at speed.

Every new set of tyres purchased will be aligned and balanced free of charge after 10,000 miles. We pride ourselves on our after sales service so we like to reward our customer base when they buy 4 brand new tyres.

We perform 4 wheel laser alignment. This is a vital part to motoring. 4 wheel laser alignment aligns the carto prevent uneven tyre wear and maximizes fuel effeciency.

Lost your lock nut key? or did it get damaged? We can remove 99% of lock nuts in house with our specialist equipment. We have popular standard wheel nuts in stock to replace those stubborn lock nuts, or we can order you in a new set and fit them for you. 
Alloy Wheel Straightening
Do you have a wheel that has a buckle? Does it continue to lose air? Does it cause a vibration when you drive? If you answer is yes to all or any of these questions more than likely your tyre is going to wear prematurely.  Buckles normally cost 40-50 euro per buckle. We can also arrange for alloy wheels to be welded for you from around 60 euro per crack/wheel. 
Have to constantly put air in one of your tyres? Going on a long journey? Better get it checked. 
over 50% of visitors who pop in for air pressure checks end up having a puncture of some sort.
We can repair your tyre and have you back on the road in minutes
We will also check your air pressures and tyre health for you while your repair is being carried out
Failed your Nct on light alignment? Finding it difficult to see at night? Why not come down to us and we can align your lights or advise on how to improve visibility

We Supply and Fit batteries for most makes and models. 
Opening Hours
Monday – Friday:              08:00 – 18:00
Saturday:                           08:30 – 16:30
Sunday:                             CLOSED